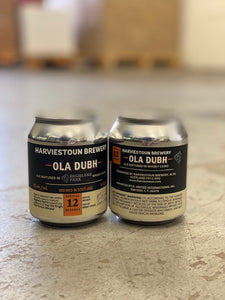 Windsor Bottle Shop
Harviestoun Ola Dubh 12yr old 8.4oz Can
Regular price
$8.99
$0.00
Unit price
per
8.4 oz Can
Ola Dubh (pronounced 'ola-doo' and Gaelic for 'black oil') was conceived in 2007. It was the first ale to be matured in whisky barrels from a named distillery and, with traceable casks and numbered bottles, it is a beer with real provenance. To make Ola Dubh 12, we take our Old Engine Oil (amped up to 10.5%) and age it for up to 6 months in casks that previously held Highland Park 12 Year Old single malt. And it is ready only when our head brewer, Stuart, deems it ready!

This amazing brew has been aged in selected oak casks formerly used to mature Highland Park 12 Year Old Single Malt Whisky, adding complementary whisky notes to our chocolatey, bittersweet beer.

Ola Dubh 12 pours black with a modest spattered head that reduces slowly, leaving behind textbook lacing. The aroma is delicious; smoky Worcestershire sauce, leather, iodine and grilled steak. Flavours of smoky-sweet malts, roasted peat, coffee beans and a well-bittered finish. Overall this is a rather exotic brew with a defined barrel influence. It's refined rather than over the top and very delicious indeed.

---