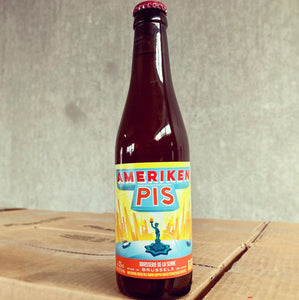 Windsor Bottle Shop
De La Senne- Ameriken Pis
Regular price
$7.99
$0.00
Unit price
per
330ml 
7.5 % ABV 
Collaboration with Somewhere Else Beer Project,Perennial Artisan Ales, Keeping Together, Yazoo Brewing Company, Off Color Brewing, Little Animals Brewery
A collaboration with 6 American breweries that visited us. We would like to point out from the outset that they are the ones who chose the name, after a well-'watered' brainstorming…

This is a style of beer that we don't do too much at la Senne, and that's the whole point: a double Belgian-American IPA!

It has a very beautiful amber color. Its nose evokes exotic fruits, mango, grapefruit, and strawberry.
On the palate, its aroma is malty and hoppy at the same time, the latter reminiscent of orange marmalade, apricot, bergamot, and again strawberry. The ensemble is accompanied by a floral side, of the island flowers type. Its bitterness is fine and very balanced, and its character round and warming, with a touch of lime on the finish.
---