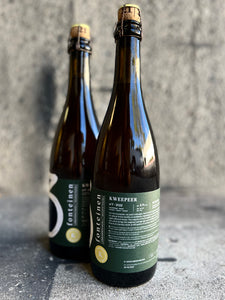 Windsor Bottle Shop
3 Fonteinen Kweepeer (season 21|22) Blend No. 7
Regular price
$47.99
$0.00
Unit price
per
750ml
5.9% abv
bottling date: 15-12-2021

For this Kweepeer, we used Limburgse, hand-picked quinces and let them macerate for almost three months on lambikken originating from three different barrels and eight different brews.

The majority of the lambikken used was more than two years old, which brings the weighted average age upon bottling to almost 27 months. The final fruit intensity clocks at 800 grams of quinces used per litre of finished Kweepeer.

Kweepeer is the  maceration of hand-picked quinces on traditional lambic. No addition of juices, syrups or artificial sweeteners. Unfiltered. Unpasteurized.
---