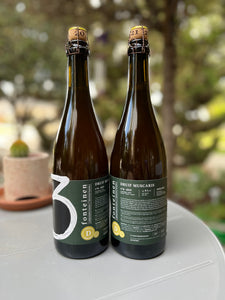 Windsor Bottle Shop
3 Fonteinen- Druif Muscaris (season 20|21) Blend No. 16
Regular price
$56.00
$0.00
Unit price
per
750ml
9.1% ABV
This Druif features the Muscaris variety, a crossing between Solaris and Muskateller. This rather young variety originates from the Freiburg region in Germany and combines an intense muscat bouquet with a higher sugar density than other Muscat varieties (especially when harvested slightly late).

Anyhow, we put the grape must with fifteen-months old lambik on a small oak foeder. The lambikken that we used for blending, was a three-year old lambik (and makes up more than 10% of the total volume).

The final fruit intensity is 469 grams of Muscaris grapes per litre of Druif. 100% 3 Fonteinen brewed lambik.
---