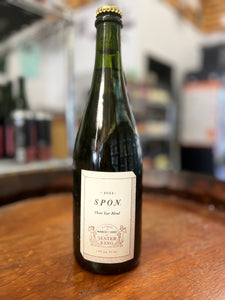 Windsor Bottle Shop
Jester King-2022 SPON THREE YEAR BLEND
Regular price
$49.99
$0.00
Unit price
per
2022 SPON Three Year Blend is a blend of 100% spontaneously fermented beer from our 2021, 2020, and 2019 coolship seasons. Taking inspiration from authentic Belgian Gueuze, our aim is to follow a time-honored, classical method developed overseas, but with our own well water, Texas grain, aged hops, and native yeast to make a beer inextricably linked to a time, place, and people.
2022 SPON Three Year Blend was brewed with Trinity Aquifer well water, Texas malted barley and raw wheat, aged hops from our barn, and native yeast from the land and air around our brewery. It's component parts were aged at Jester King in oak puncheon barrels from one to three years. After blending, it was naturally conditioned through re-fermentation in bottles and kegs.
2022 SPON Three Year Blend is our 7th blend following the original release of 2016 SPON Méthode Gueuze. The coming winter of 2022-23 marks our 11th coolship season. We began in 2013 with a curiosity and desire to see if spontaneous fermentation would be possible in Texas. We were pleased to learn that it was and that our own agriculture and microclimate would naturally produce a beer unique to a time, place, and people.
---