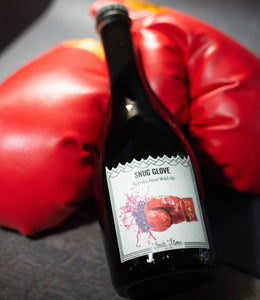 Windsor Bottle Shop
Fonta Flora Brewery- Snug Glove (Wild Ale)
Regular price
$23.99
$0.00
Unit price
per
6.4% ABV
Batch #6 Bottled February 2022
appalachian wild ale fermented with local whole blackberries
Appalachian wild ale brewed with local barley and local raw wheat. Boiled with burlap-aged hops. Fermented with our mixed house cultures in one of our beautiful American-made oak foeders courtesy of our friends at Foeder Crafters of St. Louis, Missouri. Transferred into oak for 4-6 months of aging. Transferred out of oak onto a massive amount of local blackberries from the harvest of 2021. Fermented and aged on the berries for 3-4 months and transferred back into red wine barrels. Matured in the wine barrels for an additional 8 months.
13-16 months old at time of bottling. Conditioned naturally inside the bottle and keg. Blackberries were grown at River Ridge Organics of Grayson County, Virginia and were harvested in the summer of 2021. As the 2021 vintage was the blackberry wine barrel addition, we technically did not release a straight up version of Snug Glove last year. But to complex it up a bit, we did things a little differently for 2022's vintage.
Instead of using our normal golden sour base blend that we use for all of our Appalachian wild ales, we blended the 2022 vintage with 2nd use blackberry barrel-aged stock. By starting with a base lightly flavored and colored with the very same fruit, it allowed us to achieve unparalleled complexity and depth through older barrels and a unique method for blending time and fruit.
---