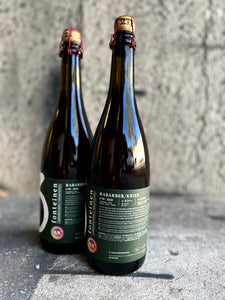 Windsor Bottle Shop
3 Fonteinen Rabarber/Kriek (season 20|21) Blend No. 95
Regular price
$47.99
$0.00
Unit price
per
750ml
6.2% ABV
bottling date: 16/11/2021

For this Rabarber/Kriek, we blended a kriekenlambik and a rabarberlambik. In total, we used not less than nine different brews originating from six different barrels.

The weighted average age of this fruit blend is more than 25 months. More than 70% of the lambikken were brewed with local grains that we sourced from our Cereal Collective. The final fruit intensity is 355 grams of sour cherries and rhubarb (technically a vegetable) per litre of Rabarber/Kriek.
Rabarber/Kriek is obtained by the successive maceration of young rhubarb and cherries on lambic. No addition of juices, syrups or artificial sweeteners. Unfiltered. Unpasteurised.
---