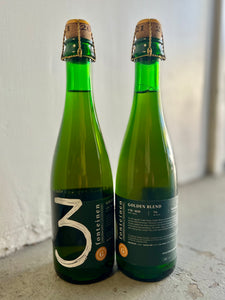 Windsor Bottle Shop
3 Fonteinen- Oude Geuze Golden Blend (season 20|21) Blend No. 32
Regular price
$29.99
$0.00
Unit price
per
375ML
7.2% ABV
bottling date: 03/03/2021

For this specific Oude Geuze Golden Blend, we blended lambikken from three different barrels and five different brews. The brew consists of more than one third of 50-month old lambik.

We also added one sherry barrel of 34-month old lambik. This way, the weighted average age of the blend upon bottling is 28 months. About one third of the 3 Fonteinen lambik was brewed with Pajot grown cereals. This is the same blend as the 31st, but with a different sherry barrel.

Oude Geuze Golden Blend is a blend of one- to at least 25% four-year old lambics. Spontaneously fermented. Matured in oak barrels. Extended bottle ageing. Unfiltered. Unpasteurised.
---