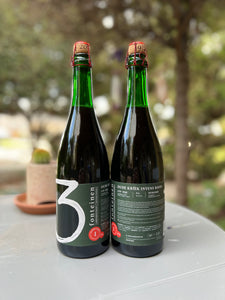 Windsor Bottle Shop
3 Fonteinen- Intens Rood PX (season 19|20) Blend No. 79
Regular price
$50.99
$0.00
Unit price
per
750ml
7.1% ABV
bottling date: 07/10/2020 

PX sherry barrel Kriek

While looking for old sherry barrels, we cannot get lucky all the time. While we will be sourcing barrels directly from bodegas to assure provenance and quality, we had a batch of Pedro Ximenez (PX) barrels that was on the peated side (albeit subdued). As a result, we decided not to use them for Zenne y Frontera, but to blend them with other (fruit) lambikken into geuze and fruit blends.
This is the first of such blends to be released. Sour cherries were macerated partly on young peated lambik and partly on two-year old straight lambik in a stainless steel tank. We blended with young and three-year old (!) lambik. 55% of the blend is old lambik and the final fruit intensity is 567 grams of sour cherries per litre.
---