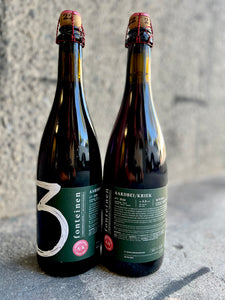 Windsor Bottle Shop
3 Fonteinen Aardbei/Kriek (season 21|22) Blend No. 1
Regular price
$53.99
$0.00
Unit price
per
750ml
6.2% ABV
bottling date: 16/11/2021

This Aardbei/Kriek is a blend of a strawberry lambik and a sour cherry lambik, in a proportion of 65/35. The lambikken originate from five different barrels and nine different brews. Most of them were two-year old lambikken, and almost 10% three-year old. One third of the lambik volume is brewed with Pajot-grown cereals.
Aardbei/Kriek is obtained by the successive maceration of strawberries and cherries on lambic. Natural fruit, without the addition of juices, syrups, or sugars. Unfiltered and unpasteurized.
---